Learn the absolute best most flavorful way to prepare a turkey by making this Brined Smoked Turkey Recipe.
I mean I'm cool with eating turkey on Thanksgiving and all, just as long as it's a brined smoked turkey.
More often than not I preach to get out of the norm and make a big ol prime rib roast, or a beef tenderloin, just anything other than turkey.
Well, if you are making a brined smoked turkey, I will give you a pass because DUDE!!
Seriously, it is the only way to make and eat turkey if you're doing up a bird for the holidays.
A few years ago, I decided to help out my mother in law by making the turkeys.
Well, I made a brined smoked turkey and at the end of the meal my father-in-law asked to see a show of hands who thought I should do it every year.
Yeah, everyone raised their hands lol.
Now, don't freak out because I promise this is so much easier then you may be thinking.
Making a Smoked Turkey Brine:
Making the smoked turkey brine is actually really easy, all you need is a big huge stock pot or an extremely clean paint bucket.  You choose!
The turkey brine that I've been making the last few years is an apple cider brine.
It's simple solution that packs a serious punch.  I mean while the smoked part of the turkey is tasty, it wouldn't be anything without the smoked turkey brine I whipped up.
The ingredients for the smoked turkey brine are simply apple cider, water, salt, sugar, peppercorns, bay leaves, fresh thyme sprigs, onion and garlic.
You bring the water, cider, sugar and salt to a boil to ensure all of those ingredients are dissolved and incorporated and then you let it chill.
Yes, this brined smoked turkey recipe is easy to make, but it will require you to get prepped up a few days before you want to cook and serve it.
Once the brine is chilled toss in the other ingredients and you're good to go.
Brining a Turkey:
Once the brine is chilled and the other ingredients have been put in it add in your turkey, make sure the giblets have been removed, and completely submerge it.
You can add in a little ice if you'd like to help make sure it stays really cold, and then I add a few of my plates over top to ensure the turkey stays submerged.
Place the turkey in the refrigerator, yes you will probably need to make some room in there because the pot or bucket is pretty big.
Now, I like to brine the turkey for 1 day.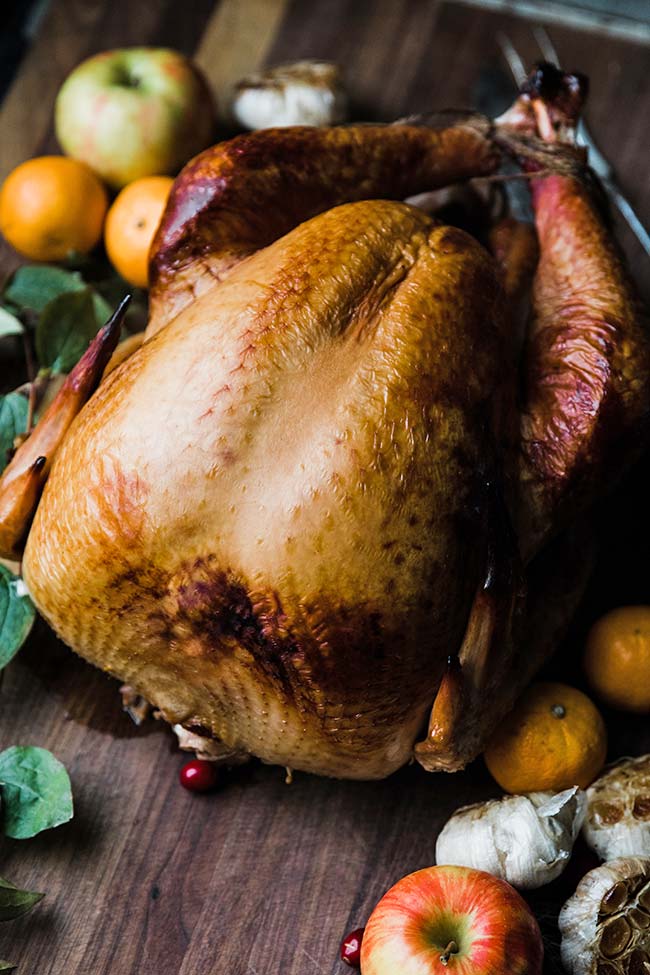 I think this is ample time to bring out some really good flavor in the turkey, but you can absolutely push it to 36 to 48 hours if you'd like, but I don't think you need it.
Rinsing Off the Turkey Brine:
One of the most important steps to this brined smoked turkey is rinsing off the turkey once it's done brining.
Remove the turkey from the brine and rinse it extremely well in your sink on all sides including the cavity.
You want to make sure your turkey is seasoned, not a salt lick so take the time to do this.
Next, pat the turkey dry and let it sit for 45 minutes before smoking it.
Smoking a Brined Turkey:
Now it's time to smoke.
Since my in-laws aren't keen on super smoky foods I do a light smoke and because it's brined the turkey actually cooks a bit quicker than if it wasn't'.
I get my smoker up to 275° before putting the turkey in it.
I don't care if you are smoking the turkey on the big green egg, a Traeger or in a digital smoker, just get it to 275°.
While I like smoking on my green egg, there is no honor in getting up at 3 am trying to light your smoker and checking every hour to ensure it is holding temp.
For this brined smoked turkey, I'm popping it straight into the smoker and forgetting about it for a few hours.
Now, if I were to smoke this turkey completely through it would take about 4 hours for this 14-pound bird but since I lightly smoke it I only keep it in there for 2 hours.
I then transfer the turkey to the oven and cook it at 275 for another 90 to 120 minutes or until the thighs read 165°.
Man you are done, cover and rest this baby up for 30 minutes before slicing and serving!
Holiday Recipes:
These are recipes you should definitely make during the Thanksgiving and Christmas Season.
Brined Smoked Turkey Recipe
Learn the absolute best most flavorful way to prepare a turkey by making this Brined Smoked Turkey Recipe.
Total Time
4
hours
20
minutes
Ingredients
8

cups

of apple cider

8

cups

of water

1

cup

of sea salt

1

cup

of sugar

12 to 14

garlic cloves

1

peeled and large diced yellow onion

2

bay leaves

1

tablespoon

of peppercorns

1

bunch of fresh thyme sprigs

14-16

pound

thawed turkey

giblets removed
Instructions
Add the cider, water, salt and sugar to a large pot and bring to a boil and cook until the salt and sugar are completely dissolved.

Chill the mixture until completely cool, about 3 hours.

Next, add in the garlic, onion, bay leaves, pepper corns, and thyme sprigs and mix to incorporate.

Add in the turkey and ensure it is completely submerged.

Place in the refrigerator for 24 hours or up to 48 hours.

Remove the turkey and rinse very well with water on all sides. Pay dry and let sit at room temperature for 45 minutes.

Preheat the smoker to 275°.

Add the turkey to the smoker and cook for 2 hours for a light smoke or 4 hours for a fully cooked turkey. The thigh meat should read 165° when it is finished, or the button should have popped out.

If you smoke the turkey for 2 hours, transfer it to your oven at 275° and cook it for 90 to 120 more minutes or until the thigh meat reads 165° or the red button has popped out.

Wrap in foil and let it sit at room temperature for 20 to 30 minutes before slicing and serving
Nutrition Facts
Brined Smoked Turkey Recipe
Amount Per Serving
Calories 486
Calories from Fat 162
% Daily Value*
Total Fat 18g 28%
Cholesterol 231mg 77%
Sodium 2107mg 88%
Potassium 781mg 22%
Total Carbohydrates 7g 2%
Protein 70g 140%
* Percent Daily Values are based on a 2000 calorie diet.