Get 5 Secrets to Make Homemade Taste Food Better + New Recipes Weekly!
Published May 9, 2018. This post may contain affiliate links. Please read my disclosure policy.
One of the oldest ways to eat a grilled steak is called Black and Blue, or Pittsburgh style. You can achieve it by charring the outside while maintaining a rare to medium-rare internal temperature, or blue steak.
I'm actually not too fond of the Pittsburgh style steak because it's just a bit too charred for my liking. However, when I used to work in the restaurant industry we would get a request for 3 to 4 of these a night they are that popular. It's actually quite weird tasting as it has this overly charred well-done shoe leathery taste on the outside but then a delicate full-flavored rare taste in the center.
We would do this Pittsburgh style steak on a number of different cuts of beef from a filet mignon to a New York strip, and an occasional ribeye steak. I would avoid anything too fatty because remember the inside is rare and raw fat is a bit nasty, take it from me!
How to Make Black and Blue Steak
The hardest part about making it is ensuring there are plenty of flames rising high above the grates on your grill. Let me be the first to say that a Pittsburgh-style steak has to be done on an open flame grill, it cannot be done on a pan on your cooktop because it will take way to long to char on the outside without it being rare in the middle. So, the first thing you can do is crank your grill up to the hottest setting it can go and let it hold that temperature for about 7 to 10 minutes before cooking.
When using cuts of meat like a New York strip or a ribeye, it's actually easier to achieve a Pittsburgh-style steak because you can simply fabricate your cuts of beef when you are breaking it down to keep some more of the fat on. When it comes time to cook the steak you trim a bit more of the fat off and then you place that fat around the outside of the steak. Or when fabricating simply trim all the fat and set it to the side in a freezer or on a ready-to-order basis. Meat fat breaks down pretty slow but drips profusely causing lots of flame and fire which will help you achieve that char to your meat. THIS is the best way to make a Pittsburgh-style steak.
If you are using a rather lean cut of meat like a filet mignon then your absolute best option is going to be butter. The only issue is that butter cooks really quickly, especially on the grill, so you are going to need quite a bit of it or to help prolong the melting process to make sure it is completely frozen. In the same manner where you would put the meat fat around and on the steak, you want to put the butter all around it and on it. This will make some crazy huge flames and will certainly black and blue your steak!
If you wanted to take it even a step further to ensure you've got an insanely deep dark char, add a lid to it. Once you drop your seasoned steak and put the butter everywhere put a grill lid or a large cast-iron skillet flipped upside down over the top of it to keep all the heat and flames contained to be around your steak. This will absolutely ensure you are charring or burning as I used to call it, your Pittsburgh-style steak!
Why Is It Called Pittsburgh Style
So here's what I've heard to be true. When the steel industry up in Pittsburgh was absolutely booming the workers would bring cuts of meat to work to cook and eat since there was nothing but hot metal around. Some of the surfaces of metal could get up to 1800° right out of the fire and would help these workers steak get an incredibly dark sear in only a matter of a minute or so while remaining rare in the center. I'm not sure if this Pittsburgh-style steak story is true but I sure hope it is because how clever!
If you're looking for a really tasty black and blue steak Pittsburgh style then check out this recipe for Black and Blue Steak by the one and only Emeril Lagasse!
Black and Blue Steak Pittsburgh Style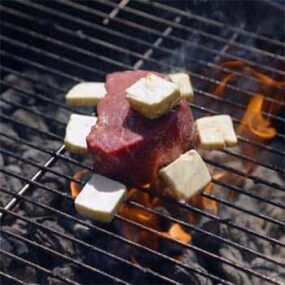 Charred on the outside but rare in the inside, this Pittsburgh style black and blue steak is a classic American recipe.
Ingredients
1

8 ounce

filet mignon

4

ounces

frozen unsalted butter

,

cut up

sea salt and fresh cracked pepper to taste
Instructions
Preheat the grill to high heat, between 550° and 650°.

Season the steak on all sides with salt and pepper and place it on the grill once it is at full temperature.

Immediately add the butter directly around the steak and over top to cause hot flames to shoot up over the grates in order to char the steak.

Place a grill lid over top to help char the steak.

Cook for 1 to 2 minutes per side or until charred black on the outside but rare in the center.

Serve.
Nutrition
Calories:
816
kcal
Carbohydrates:
1
g
Protein:
1
g
Fat:
92
g
Saturated Fat:
58
g
Cholesterol:
245
mg
Sodium:
13
mg
Sugar:
1
g
Vitamin A:
2834
IU
Calcium:
27
mg