Sheet Pan Sicilian style pizza recipe is homemade in a sheet pan to help feed the whole family!  It's delicious made up of homemade dough, cheeses and toppings and it's incredibly easy to make.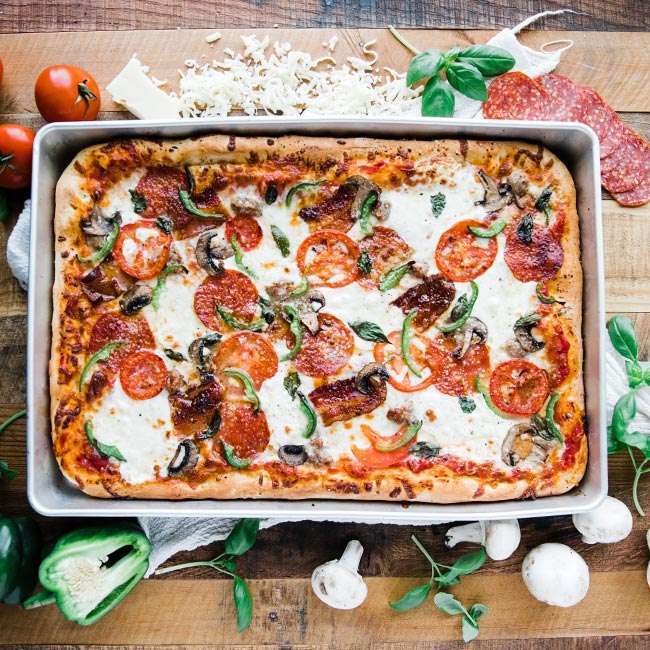 My Sicilian grandmother made sheet pan Sicilian pizza fairly often.  She was a great baker and it was treat every time we got to eat her pizza.  She would cut the it every time with scissors, which I always thought was so funny.
Sicilian style pizza is a large pizza being stuffed into a sheet pan and can feed quite a few people.  With the gigantic family we have (my dad has 40 first cousins), it's a no brainer to make this.
WHAT IS IT
If you're reading this and wondering what on earth is Sicilian pizza, don't worry I'm about 99% positive you've eaten it before.  It's not some magical crust with some weird sauce and random cheese being used.  No, it's much simpler than that actually.
It's simply "sheet pan pizza."  Sicilian Pizza is forming your homemade pizza dough to a large sheet pan and then loading it up with toppings.  I've seen thin crust, I've seen thick crust and have eaten and enjoyed both.
My grandmother's style was much thinner, but I however love the homemade thick style better.  There's just more meat to it and when you make a homemade pizza dough, wow is it absolutely delicious!  Once your dough has risen you simply push it, pull it, smash it, to form it to the sheet pan, hence sheet pan Sicilian pizza.
CHEF NOTE: There is not limit or creativity on toppings, so once the dough has been formed, the rest is up to you.
HOW IS SICILIAN PIZZA DIFFERENT
The main difference of this recipe is in the forming of the dough.  A traditional pizza dough would be formed and rolled out into a circle and then baked on a hot stone.  Sicilian pizza is where the dough is formed into a sheet pan and baked directly in that pan.
IS IT REALLY FROM SICILY
Sicilian style sheet pan pizza is very similar to cioppino or chicken parmigiana.  There was sort of a base recipe in Sicily, in this case pizza, and then was adapted by Sicilian American immigrants to the style of pizza we have in the United States, which is baked in a sheet pan.
CHEF NOTE: This could have been adapted due to oven or pizza baking constraints, since I'my guessing not too many homes in New York had a wood burning pizza oven in their apartment.
WHAT IS THE DIFFERENCE BETWEEN SICLIAN AND NEOPOLITAN PIZZA
Neopolitan pizza from Italy is usually round with a thin center and a thicker outer crust that is on the chewier side.  Sicilian pizza is similar to focaccia and is very thick and the dough is bread like in texture.  Both can have variations of toppings so in this case it is much more about the dough.
HOW TO MAKE THE DOUGH
Homemade Sicilian pizza dough is seriously one of the easiest things to make. You add 6 ingredients to a standing mixer, or to a clean surface and knead it.
The beautiful thing is you don't really need to knead the dough too much either, maybe 5 to 6 minutes by hand and 2-3 minutes in a mixer.
Add the flour, salt, sugar, olive oil, yeast and water (110° to 115°) to a standing mixer with the hook attachment and mix it on medium speed for about 2 to 3 minutes or until it is combined into 1 big dough ball.
From there I usually just cover it with a kitchen towel and go hang out somewhere for about 90 minutes or until the Sicilian pizza dough doubles in size.
Once the dough is doubled in size, simply form it to the sheet tray you are cooking in.
CHEF NOTE: Remember to brush the inside of the pan with olive oil first
PIZZA TOPPINGS
There are so many different toppings to put on your pizza that I don't even really know where to start.  You can do a white, a traditional red, different types of cheese on it, tons of different toppings, seriously this part is entirely up to you.
STEP 1: For the crust, I like to mix some finely minced garlic with some olive oil first and then I brush the top of the Sicilian pizza dough with that.  It just gives it that extra bit of love I feel.
STEP 2: Then I add on some crushed tomatoes as that is really my sauce.  If you have some age-old pizza sauce that you use, then awesome.  If you have a sauce you've been dying to try on this Sicilian pizza, then please use it.
CHEF NOTE: I love the simplicity of crushed tomatoes and think it is just so good with it on this Sicilian pizza that I only ever use that and then season it a bit with salt and pepper before adding on all of the toppings.
STEP 3: I usually use three different cheeses, shredded mozzarella, sliced mozzarella and grated parmesan cheese for an incredibly delicious combo on this Sicilian pizza.
CHEF NOTE: The combination of cheeses adds some good fats and saltiness to the pizza for an unbelievable flavor.
STEP 4: Add on your desired toppings and bake
PIZZA RECIPES
If you love this Sicilian Pizza then you are for sure going to love my other pizza recipes.
This is salty, it's fatty, it's just straight up fire!
The toppings after this are usually all over the place.  Sometimes I'm all in for meat, sometimes it's all veggie, and then like this recipe it's a combo of both.
HOW TO REHEAT IT: to reheat it preheat your oven to 350° and add the pizza still in the pan or directly onto a cookie sheet tray or preheated pizza stone and cook for 5-7 minutes or until hot and the cheese has melted.  You can also simply microwave it until hot, but it will soften up the crust.
STORING AND FREEZING SICILIAN PIZZA: to store it, cover it in plastic wrap and keep in the refrigerator for up to 4 days.  Freeze it covered in plastic for up to 2 months.  You can reheat directly from the freezer to the oven using the reheating instructions above, however you will need to cook it for longer times to thaw and heat.
*If you are insanely in love with this Sicilian pizza recipe then you have to try my Homemade Pizza with Homemade Pizza Dough, and be sure to drop me a comment below and a rating if you've had the chance to make it.* 
Don't forget to watch the video below for step by step instructions.
Be sure to follow me on Facebook, Instagram and Pinterest for my latest updates.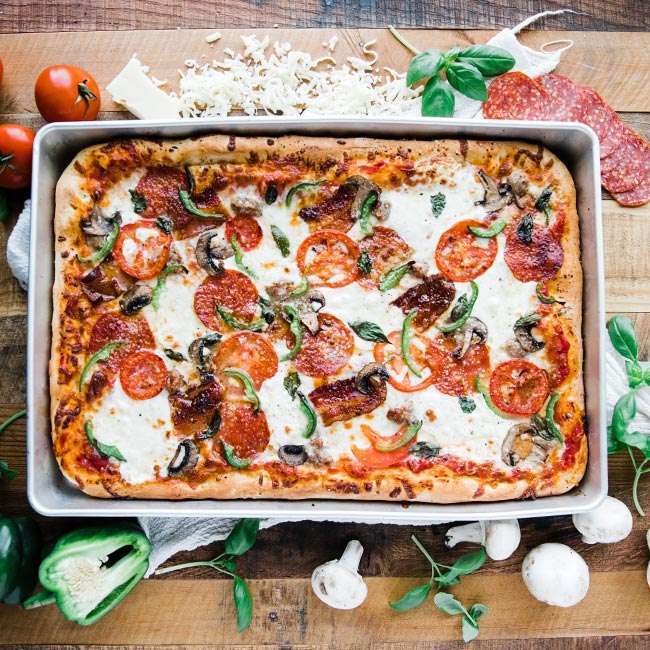 Print Recipe
Sheet Pan Sicilian Pizza Recipe
This classic Sicilian style pizza recipe is homemade in a sheet pan to help feed the whole family! It's delicious and super easy to do.
Ingredients
For the Dough:
5

cups

of Bob's Red Mill All Purpose Flour

1

teaspoon

of sea salt

1

tablespoons

of sugar

3

tablespoons

of extra virgin olive oil

1

tablespoons

of yeast

1 ¾

cups

of warm water

110° to 115°
For the Toppings:
6

cloves

of finely minced garlic mixed with 1 tablespoon of olive oil

½

cup

of crushed tomatoes

8

ounces

of shredded mozzarella

8

ounces

of sliced mozzarella

¼

pound

of crisp cooked bacon

cut into 2" pieces

10-12

pepperoni slices

¼

pound

of raw loose sausage separated into chunks

1

sliced tomato

2

sliced domestic mushrooms

½

peeled and thinly sliced green pepper

¼

cup

of grated parmesan cheese

15-20

basil leaves

sea salt and fresh cracked pepper to taste
Instructions
Dough: Preheat the oven to 500°.

Add all of the ingredients to standing mixer with the hook attachment or to a clean surface. Mix until combined and knead in a mixer on low speed for 2 to 3 minutes or by hand for 5 to 6 minutes.

Cover with a towel and let double in size, about 90 minutes.

Next, drizzle some olive oil onto your sheet pan that you will be cooking in, I used a 12"x18"x2" sheet pan. If you have smaller sheet pans, then divide the dough and make 2 pizzas or reserve the remaining dough in the freezer.

Form the pizza dough to the sheet pan so that it is completely covered.

Next, evenly spread on the garlic and olive mixture all over the pizza making sure to leave a 1" crust around the outside.

Evenly spread on the crushed tomatoes also leaving a 1" edge around the outside and then layer on as followed: shredded mozzarella, sliced mozzarella, bacon, pepperoni, sausage, tomatoes, mushrooms, green peppers, parmesan cheese, basil leaves, salt and pepper.

Cook the pizza for 12 to 14 minutes at 500° or until browned and cooked through out.

Slice and serve!
Nutrition
Calories:
435
kcal
|
Carbohydrates:
43
g
|
Protein:
18
g
|
Fat:
21
g
|
Saturated Fat:
8
g
|
Cholesterol:
46
mg
|
Sodium:
633
mg
|
Potassium:
208
mg
|
Fiber:
2
g
|
Sugar:
2
g
|
Vitamin A:
431
IU
|
Vitamin C:
6
mg
|
Calcium:
231
mg
|
Iron:
3
mg