Cioppino Recipe is loaded with fresh seafood and cooked in a delicious tomato and vegetable broth and served up with parsley and sourdough bread!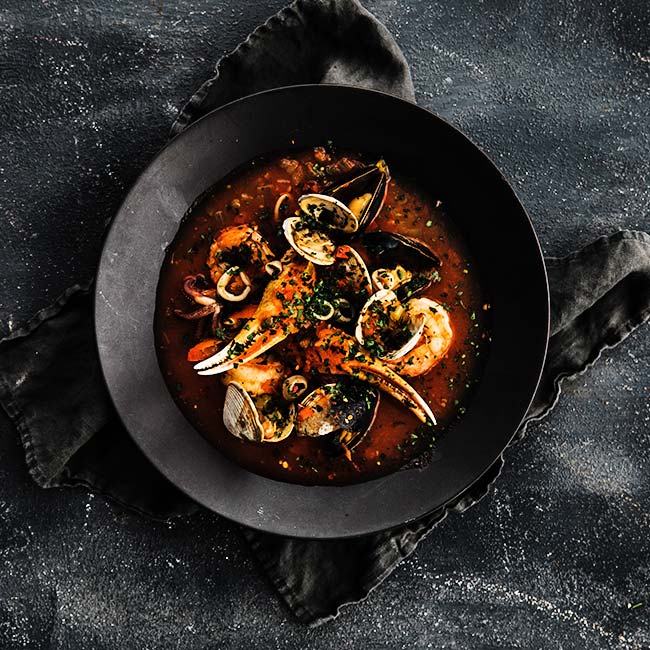 If you're a seafood fan, then this Cioppino Recipe may be your new favorite recipe.
I called my buddy to come destroy this cioppino recipe with me because he's obsessed with seafood, but his wife is allergic.
He tweeted me a gif that said this was the best day of his life haha.  After you try this Cioppino Recipe, you might agree with that.
What is Cioppino
Cioppino is an Italian seafood stew that was founded in San Francisco California.
Italian immigrants that migrated to the northern California region created the dish based on the, "catch of the day."
Essentially whatever came in off the boat that day was what got thrown into the cioppino recipe.
Aside from the seafood in the cioppino, the main ingredients were onions, celery, peppers, tomatoes and fish stock.
Much like most of the recipes during this time period like this Homemade Spaghetti Aglio E Olio Recipe or this Veal Osso Bucco Recipe with Gremolata, they were simple. Few ingredients that were readily available.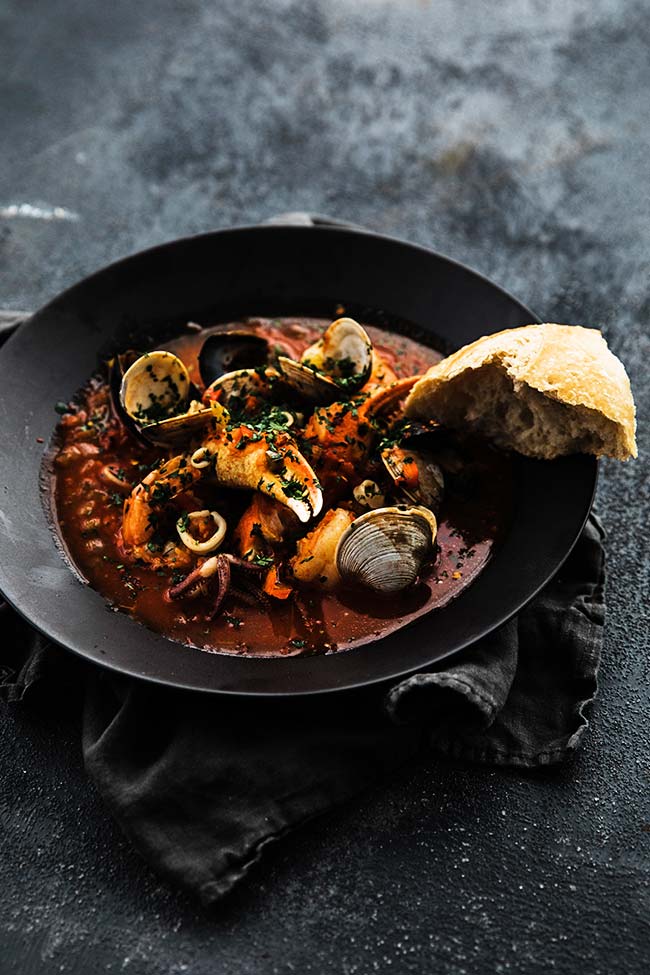 With that being said, I don't want you to confuse simple with bland because this cioppino recipe is anything but.
I've been doing an incredible amount of research with these classic recipes and the one thing that keeps ringing true is simple.
The world was not rich when most of these traditional recipes were created so whatever they had is what they used.
I for one love the simplicity in these recipes, and this cioppino is unreal!
Cioppino Seafood
As I stated earlier, I researched this cioppino recipe quite a bit and what I found regarding the seafood portion really surprised me.
When I had made cioppino in the past at one of the restaurants I worked at we used all sorts of fish and kind of what was lying around.
While this methodology of using what was around would be correct, I found that the most authentic and classic versions of cioppino mainly used shellfish and squid.
This could change from day to day depending on what came off of the boat, but from what I gathered anything past Dungeness crab, shrimp, clams, mussels and squid would be considered bonus.
Now, with that being said I do not want to stop you from using fish into your cioppino recipe because it will still be amazing, and maybe even better.
You know I'm all about the classic nature of recipes so I tried to keep it as real as I possible could, so for me that meant shellfish and squid into my cioppino recipe.
The only part of this cioppino recipe that I could not capture was the crab part.  Dungeness crab is traditionally used but boy oh boy is it hard to find.

How to Make Cioppino
The easiest way I know how to make cioppino is to make the stew first and par-boil the seafood separate and then add everything together.
If you do have a huge pot, then you can absolutely make the stew and slow braise all of the seafood until it is cooked.
In fact, doing it this way is most likely what they did back in the day but it can be overwhelming when trying to do it at home and cioppino ingredients are hanging out all over the place.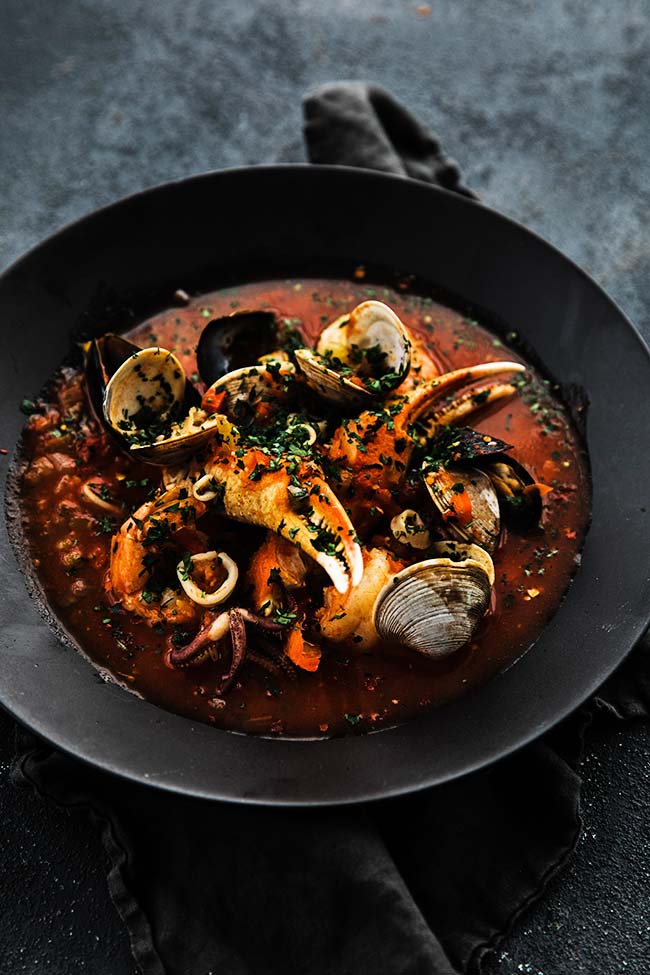 Simply roast the vegetables, add in the stock and tomatoes and simmer.  That's it.
While the cioppino stew is simmering you can boil or steam all of the other ingredients and then pour into the stew and mix it.
Cioppino is super thick because of the shellfish so don't feel like you have to add it all to the stew.
To finish off cioppino garnish it up with some fresh chopped parsley, some optional red pepper flakes and alongside some bread.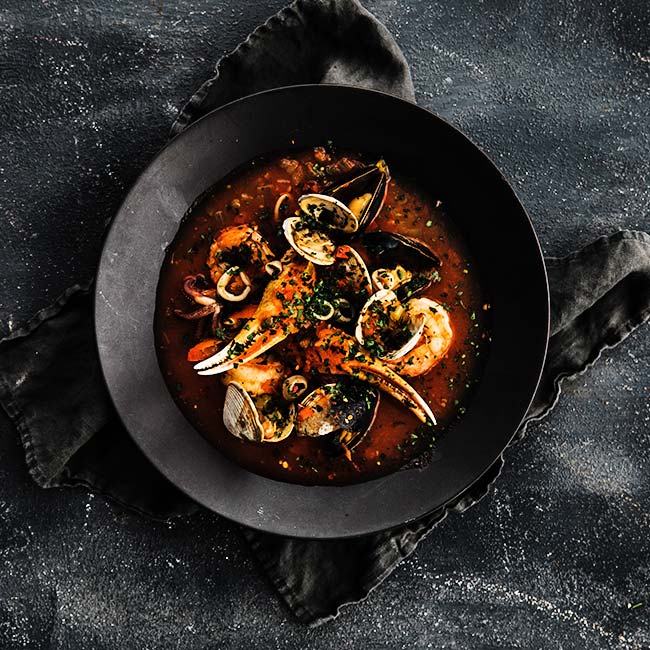 Print Recipe
Cioppino Recipe
Cioppino Recipe is loaded with fresh seafood and cooked in a delicious tomato and vegetable broth and served up with parsley.
Ingredients
For the Stew:
2

tablespoons

olive oil

1

peeled and small diced yellow onion

4

finely minced cloves of garlic

3

small diced stalks of celery

1

seeded and small diced green bell pepper

1

seeded and small diced red bell pepper

2

cups

of fish stock

2 28-

ounce

cans whole peeled tomatoes

crushed with hands

sea salt and pepper to taste

chopped parsley and crushed red pepper flakes for garnish
For the Seafood:
1

pound

of manilla clams

1

pound

of mussels

8

ounces

of large U-15 peeled

deveined tail on shrimp

1

pound

of crab legs

broken down

8

ounces

of squid

tubes sliced
Instructions
In a large pot over medium heat, add in the olive oil.

Next, add in the onions, garlic, celery and peppers and saute for 4 to 6 minutes or until lightly browned.

Pour in the stock and tomatoes and stew over low heat for 20 minutes. Season well with salt and pepper.

In a large pot of boiling salted water, batch cook the seafood from whatever takes the longest amount of time to cook to the shortest.

Add in the clams and cook for 3 to 4 minutes and then add in the mussels and cook for 3 to 4 minutes. All of the shells should be open.

Transfer the shellfish to the cioppino stew and mix in.

Next, add the shrimp and the crab legs and cook for 2 to 3 minutes and then add in the squid and cook for 1 to 2 more minutes or until done.

Also add this to the stew and stir.

Serve the cioppino with chopped parsley and optional crushed red pepper flakes and sliced sourdough bread.

10. Enjoy!
Nutrition
Calories:
282
kcal
|
Carbohydrates:
14
g
|
Protein:
36
g
|
Fat:
8
g
|
Saturated Fat:
1
g
|
Cholesterol:
242
mg
|
Sodium:
1191
mg
|
Potassium:
1013
mg
|
Fiber:
2
g
|
Sugar:
5
g
|
Vitamin A:
1125
IU
|
Vitamin C:
66.1
mg
|
Calcium:
202
mg
|
Iron:
4.9
mg