Get 5 Secrets to Make Homemade Taste Food Better + New Recipes Weekly!
Published May 18, 2018. This post may contain affiliate links. Please read my disclosure policy.
Sink your teeth into this deliciously tempting authentic Italian Ricotta Cheesecake Recipe with Fresh Figs and Honey! Man would my grandmother be proud of me for making this. To be honest, I'm not sure she would have known the difference, but with all the ricotta in this tasty cheesecake, it is definitely a must-make!
Traditionally in a Roman-style cheesecake, it would use all ricotta cheese, but we aren't in Roman times anymore so cream cheese adds some nice richness to this classic recipe.
I'm actually quite certain that you'll prefer ricotta over a traditional cheesecake, plus the figs and almonds on top are ridiculous!
I do have to admit that while this ricotta cheesecake is one of my favorite desserts, I do love this Croissant Bread Pudding with Champagne Zabaglione Recipe and this Sour Cream Bundt Cake Recipe with Caramel Sauce.
Making the Crust
If you did not know almonds, ricotta, figs, and honey go together perfectly so when you get a bite of all that goodness your taste buds will scream for more! I'm going to be using almond meal in this recipe.
The meal uses blanched shell-less almonds that are finely ground and to be honest make a perfect crust. Simply process together in a food processor on high speed the almond meal, butter and 1 tablespoon of sugar, that's it.
Once the butter becomes the size of rice it's then time to form it to the bottom of a springform pan. You want to ensure the crust is wet enough so when you punch it, it sticks together.
Press the almond meal crust into the bottom of the pan forming it to the bottom to make the ricotta cheesecake crust. At this point, you can par-bake it if you're looking for a nice crusty crunchy ricotta cheesecake crust.
I, however, don't do this as I like a soft chewy crust that folds in perfectly with the cheesecake when eating it, which is what I recommend you do to cut down on time cooking.
How to Make the Batter
Start by whipping the cream cheese and sugar together in a standing mixer on high speed until it becomes light and fluffy. Do your best not to eat too much and save some for the cake.
Before adding in the Ricotta to the mixture be sure to drain it a little bit as it will have a bit of liquid in the container.
Also, be sure to use whole milk ricotta because it's the only way to make a ricotta cheesecake! Add it in with the cream cheese and continue beating the tar out of it on high speed for a few more minutes.
Add in 1 egg at a time making sure it is completely mixed in before adding in the next one and then finish off by adding in some fresh vanilla bean seeds and corn starch to the batter. To get the vanilla bean seeds just cut a fresh vanilla bean longways and use a pairing knife to scrape the inside of the seeds out. Do this though, because your cheesecake will taste that much better.
Just to let you know those seeds pack a powerful punch in the flavor department so no need to flip out that you won't have the much because trust me a little bit goes a long way, especially in this recipe.
Once you're here pour the ricotta cheesecake batter over top of the almond crust and transfer the springform pan into a 13×9 or a 200 hotel pan like I used in the picture above. In the end, just find a deep pan that your springform pan will fit in to.
Baking in a Water Bath
Once it's in the pan put it on the rack in the oven and then pour in lukewarm water around the cheesecake so that it cooks in a water bath. Doing this will make sure it bakes evenly as well as ridiculously moist since there will be moisture in the air while baking from the water.
Bake it in the oven for 90 to 100 minutes.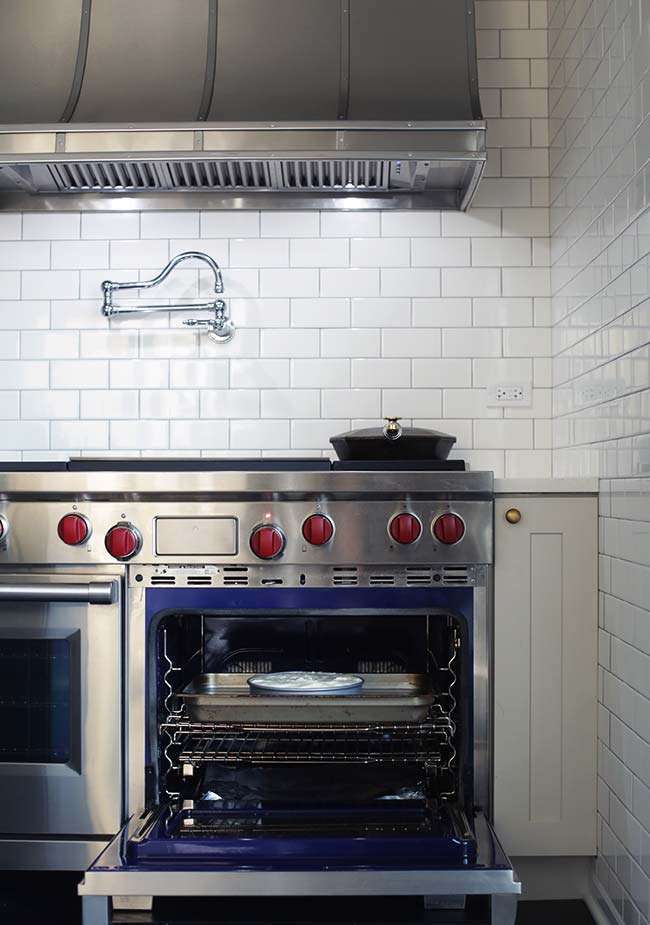 If you use cold water then you are going to be cooking the ricotta cheesecake for about 15 to 20 minutes longer because it will take longer for that water to heat up and bake the cake.
Now's the hard part, waiting. Cool it to room temperature and then chill it completely. This time can be agonizing, but I promise this ricotta cheesecake recipe is worth the wait!
How to Serve It
After you've scratched your fingernails off and pulled your hair out waiting for this ricotta cheesecake it's now time to top off with sliced fresh figs, sliced toasted almonds and a drizzle of honey.
I cut the figs in half and just sort of placed them all over the top. There's really no magic to it, I just sort of went to town. You could actually even slice the figs thinner and sort of layer them over the top of the ricotta cheesecake. That would be cool!
This is seriously one of the most balanced tasting desserts you will ever eat, and it just may be your new cheesecake recipe :-).
No matter what I'm cooking or baking it is all about balance and dude does this ricotta cheesecake have it. The combo of the almonds, honey, ricotta, and figs is spot on.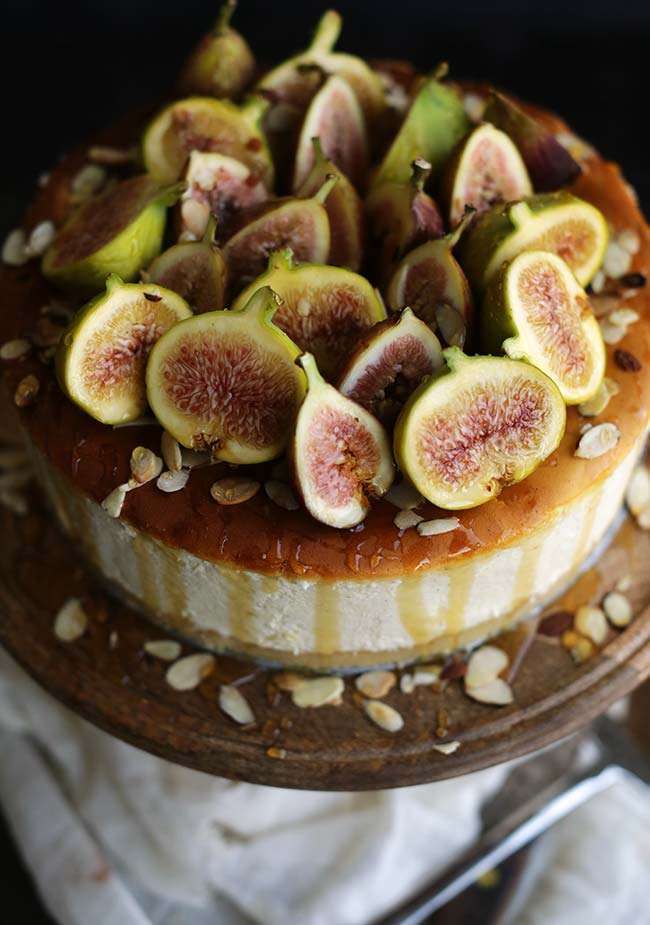 Also, please don't forget to pin this Italian Ricotta Cheesecake Recipe with Fresh Figs and Honey!
Italian Ricotta Cheesecake Recipe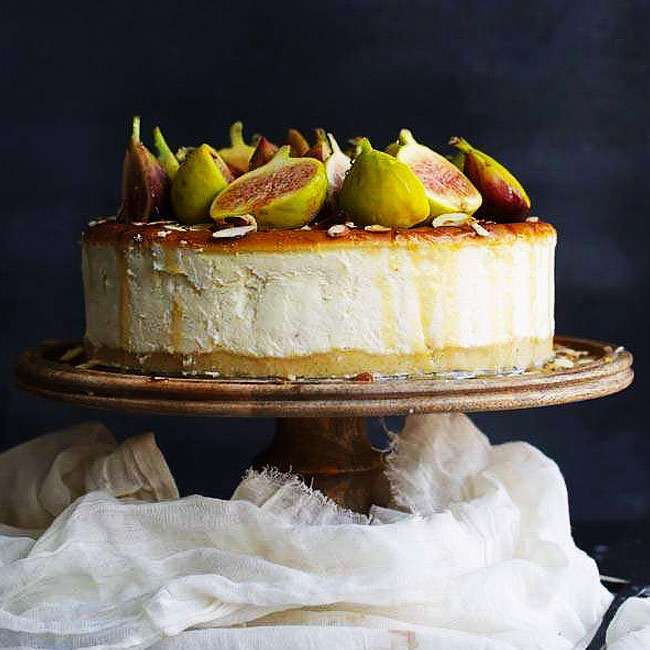 Sink your teeth into this deliciously tempting authentic Italian Ricotta Cheesecake Recipe with Fresh Figs and Honey!
Ingredients
2 ½

cups

Superfine Almond Meal

1

tablespoon

of sugar

3

tablespoons

of unsalted butter

pinch

of salt

1

pound

of cream cheese

1

cup

of sugar

2

pounds

of whole milk ricotta cheese

5

eggs

seeds from 1 vanilla bean

2

tablespoons

of cornstarch

1

pound

of sliced fresh figs

½

cup

of sliced toasted almonds

¼

cup

of honey
Instructions
Preheat the oven to 350°.

Place the almond meal, sugar, butter and salt in a food processor and process on high until the butter is the size of rice.

Form the almond meal mixture to the bottom of a 9" springform pan to make a crust. Set aside.

In a standing mixer with the whisk attachment on high speed whip the cream cheese and sugar until light and fluffy, about 4 minutes.

Next, add in the ricotta and whip for 4 more minutes. Stop and scrape.

Add in 1 egg at a time until completely mixed in. Stop and scrape.

Finish by adding in the vanilla bean seeds and cornstarch and mix until combined.

Pour the batter over top of the crust and transfer the springform pan to a 13x9 pan.

Place the pan on the rack in the oven and fill it with water until there is 1" in the pan.

Bake for 90 to 100 minutes or until the center is slightly loose.

Cool to room temperature on a rack and then cool completely into the refrigerator.

Garnish the top of the cheesecake with fresh sliced figs, toasted almonds and honey.
Nutrition
Calories:
451
kcal
Carbohydrates:
32
g
Protein:
15
g
Fat:
31
g
Saturated Fat:
13
g
Cholesterol:
117
mg
Sodium:
178
mg
Potassium:
218
mg
Fiber:
3
g
Sugar:
24
g
Vitamin A:
813
IU
Vitamin C:
1
mg
Calcium:
212
mg
Iron:
2
mg