Get 5 Secrets to Make Homemade Taste Food Better + New Recipes Weekly!
Published February 24, 2021. This post may contain affiliate links. Please read my disclosure policy.
Cutting an onion is one of the most fundamental culinary basic techniques, so learn these foolproof procedures for perfect cut onions every time.
Basic cooking schools are so important to hone your skills while in the kitchen. If you're looking to put your skills into practice then check out my techniques for How to Start a Fire or How to Truss a Chicken.
How to Cut an Onion
Learning how to cut an onion takes a lot of practice to perfect it. The best news is, onions are one of the most common ingredients used in recipes, so there should be plenty of opportunities for practice.
The most important aspect of properly cutting an onion is ensuring you have a very sharp knife. While you can use any knife, I recommend using your chef knife to cut onions. If your knife isn't sharp you risk injury to yourself or others.
What Onions to Use
Any onion can be fabricated to your liking, but these specific onions are perfect for honing your cutting skills using this technique. Here are the onions you could use:
Red
Yellow
White
Sweet
Shallot
Garlic
How to Do It
Follow along with these procedures to learn how to properly cut an onion:
Slice the ends of the onion, slice it in half and then remove the outside peel.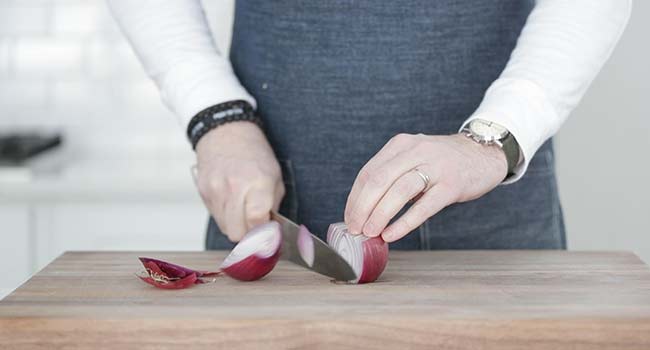 Press your non-cutting fingers onto the top of a ½ an onion and press down. Next, starting from the bottom to the top make slices going through ¾ of the onion.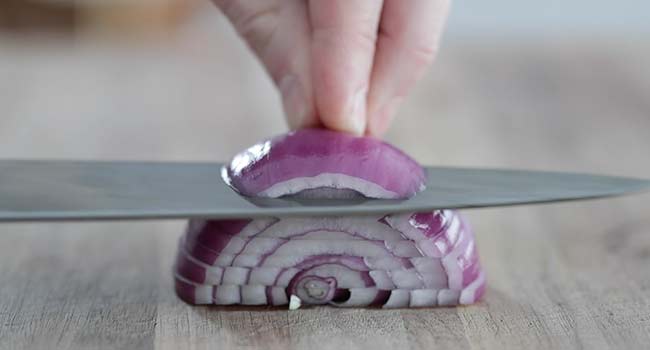 Now, starting from top to bottom slice down through the onion.
Turn the onion 90° and make several slices down to create your dice.
Make-Ahead and Storage
Make-Ahead: I am a firm believer in prepping things ahead of time so that the cooking process is seamless. You can slice onions up to 3 days ahead of time.
How to Store: Cover and keep in the refrigerator for up to 5 days. They only freeze well if you plan to use them in soups after thawing. They will hold in the freezer covered for up to 3 months.
Chef notes + tips
The liquid, or milk, that secretes from onions works well for burns to your skin.
In the video below you will see other ways to cut an onion outside of dice sizes.
Alter the amount of space in-between slices to create small, medium, or large dice cuts.
Recipes to Use Them In
Check out the how-to video below, and be sure to follow me on Facebook, YouTube, Instagram, and Pinterest, and if you've had a chance to make this, then definitely drop me a comment and a rating below!