Learn how to make this easy homemade chili recipe with flank steak that is perfect for this cool fall and winter months!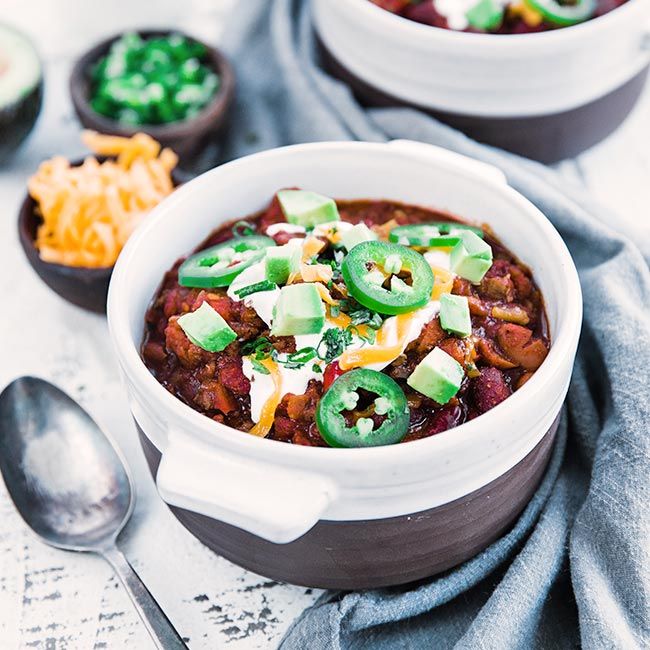 A Homemade chili  is an integral part of tailgating and is a must on every game day, and for those cool crisp nights and weekends.  This features finely chopped flank steak and is finished off with a bit off cinnamon and chocolate.
Don't let that freak you out, I promise this  is delicious.  Of course, what would a good chili recipe be without a little spice and all the fixin's added on top.  We are a condiment family, so you better believe we are piling on the sour cream, cheese, avocado and green onions.
CHEF NOTE: This recipe is delicious, hearty and packed with meat, vegetables and beans with a really unique flavor.
WHAT CAN YOU ADD TO IT
There are several ingredients you can add to this depending on what you like.  Here are some of my favorites:
Onions – red, yellow or white, or all of them together
Garlic
Bell Peppers – red, yellow or green or all of them together
Jalapeños, serrano, fresno or poblano peppers, or all of them together (Use dependent upon your tolerance for spice)
Beef – flank steak, skirt steak, brisket, top round or sirloin
Beans – dark or light kidney beans, pinto beans, chick peas, you can get creative outside of just kidney beans.
Tomatoes – canned diced, petite diced, whole peeled, or use all of them together
Chili powder
Cumin
Tomato paste – you may need this as a thickener at the end when your soup is done cooking
Salt and Pepper – seems simple but goes along way to enhancing the flavor of your homemade chili.
CHEF NOTE: Other ingredients could include corn, zucchini, squash, carrots or celery.
WHAT IS THE BEST SECRET INGREDIENT TO USE
I'm not sure there is a perfect secret ingredient, but following simple techniques and guidelines will always render a really delicious homemade chili.
Ensure you are caramelizing the onions and garlic to give off an umami flavor with a hint of sweetness.
Use quality ingredients in your chili, don't dump everything from a frozen bag or can into it.  Use as many fresh ingredients as possible.
Time!  The longer your chili will simmer over low heat, the more time the ingredients can infuse flavors and the meat can break down to be tender.  This is hands down the secret for the best chili.
With all this being said I do have 2 secret ingredients which I finish mine off with and that is a hint of cinnamon and dark chocolate when the homemade chili is finished cooking.  It just adds a really cool flavor to it making it absolutely delicious.
HOW LONG SHOULD YOU COOK IT FOR
Chili, just like all soups, are usually better the next day.  Since there are so many complex flavors in it from caramelized onions, to beef, to peppers, to the spices, they needs time to infuse and that can only happen with time.
You can be finished with it in 45 minutes but to me, it needs to simmer over low heat for at least 4 hours for you to get any sort of meaningful flavor from it.
HOW DO YOU MAKE IT MORE FLAVORFUL
Salt and pepper can go along way to making your soup more flavorful.  A few other ingredients to help take it up a notch are Worcestershire sauce and Tabasco sauce.
I was always taught to finish all of my soups off with those 2 ingredients and it always just takes everything up a notch in the flavor department, plus everyone has these t things already in their refrigerator.
HOW TO MAKE A HOMEMADE CHILI
I wanted to share a few tricks I've learned over the years to help take your recipe to the next level so you can show it off to your friends and family.
STEP 1: Brown the meat very well in some oil or butter before setting it aside and cooking your veggies.
STEP 2: Add the onions and take the time to caramelize them before adding in anything else.
CHEF NOTE: Those onion should be golden brown and will take about 30 minutes.
STEP 3: Use different spicy peppers, I used poblano, jalapeño and chipotle peppers and add them to the onions and cook for a few minutes to incorporate into the onions.
STEP 4: Add the cooked flank steak back into the pot.
STEP 5: Add in the tomatoes, beans, chili powder cumin and paprika.
STEP 6: Take the time to simmer it, remember chili tastes better the longer it cooks.
STEP 7: Season with salt and pepper, Worcestershire sauce, Tabasco sauce and tomato paste if it needs to be thickened.
STEP 8: Finish off your chili with a tad bit of ground cinnamon and a little amount of dark chocolate to help take this thing to the next level.
HOMEMADE TOPPINGS
There are several things to add to the top of it to enhance the flavors are here is a list of my favorites:
Shredded cheddar or colby jack cheese
Diced yellow onions
Sliced green onions
Sliced fresh or pickled jalapeños
Sour cream
Avocado
OTHER GREAT RECIPES
If you are loving this recipe then learn how to make these recipes.
If you ensure to follow all these steps I can guarantee you that you are going to have 1 dang good homemade chili that is easy to make and beyond delicious.
Oh yeah, when I make this I make enough to feed the masses so be sure to scale it to fit your needs!
REHEATING YOUR HOMEMADE: To reheat it simply add your desired portion to a small sauce pot and heat over low heat until hot.   You can also simply add your desired portion to microwave safe bowl and heat for 2:30 stirring after 1:15.
STORING AND FREEZING: It will hold well in the refrigerator covered up for up to 5 days.  It will also freeze well covered for up to 3 months.  Simply pull it out as you need it and reheat following the directions above.
*If you love this Homemade Chili Recipe then my Italian Minestrone Soup Recipe is a must try, and be sure to drop me a comment below and a rating if you've had the chance to make this.* 
Be sure to follow me on Facebook, Instagram and Pinterest for my latest updates.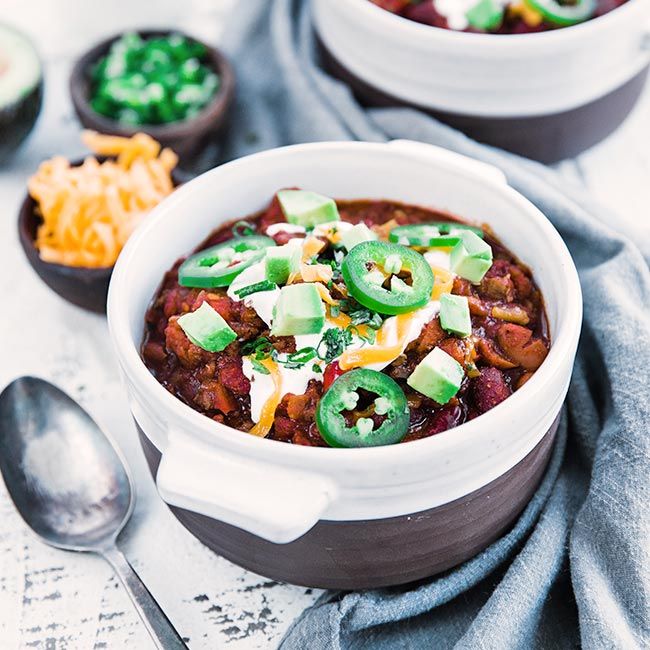 Print Recipe
Easy Homemade Chili Recipe
Learn how to make this easy homemade chili recipe with flank steak that is perfect for this cool fall and winter months!
Ingredients
1

tablespoon

of olive oil

2

pounds

of finely minced flank steak

5

finely minced cloves of garlic

2

peeled and small diced yellow onions

2

seeded and small diced red bell peppers

2

seed and small diced poblano peppers

1

seeded and small diced jalapeño pepper

1

finely minced chipotle pepper in adobo sauce

3 28-

ounce

cans of Hunt's Diced Tomatoes

6 15-

ounce

cans of BUSH'S Pinto and Kidney Chili Beans

1 8-

ounce

can of tomato paste

1/3

cup

of chili powder

1/4

cup

of cumin

3

tablespoons

of paprika

Lea & Perrins to taste

Tabasco to taste

½

teaspoon

of ground cinnamon

2

ounces

of dark semi-sweet chocolate

sea salt and fresh cracked pepper to taste
Instructions
In a large hot pot on high heat with olive oil add in the minced flank steak and cook until browned and cooked through.

Once browned, set aside and then add in the onions, peppers (minus the chipotles) and garlic and caramelize. Once brown add in the meat.

Next add in the chipotle peppers, tomatoes and beans and bring to a boil.

If the chili is too thick and a few cups of beef stock or water, or if it is too thin add in the tomato paste and stir.

Add in all seasonings, except for the cinnamon and chocolate and simmer on low heat for 1 hours.

Before serving, stir in the cinnamon and chocolate until combined.

Serve with sour cream, sliced jalapeños, diced avocado, shredded cheddar and sliced green onions.
Nutrition
Calories:
129
kcal
|
Carbohydrates:
13
g
|
Protein:
11
g
|
Fat:
3
g
|
Saturated Fat:
1
g
|
Cholesterol:
22
mg
|
Sodium:
166
mg
|
Potassium:
493
mg
|
Fiber:
3
g
|
Sugar:
4
g
|
Vitamin A:
1020
IU
|
Vitamin C:
28.2
mg
|
Calcium:
38
mg
|
Iron:
2.4
mg