Learn how to make this easy homemade chili recipe with flank steak that is perfect for this cool fall and winter months!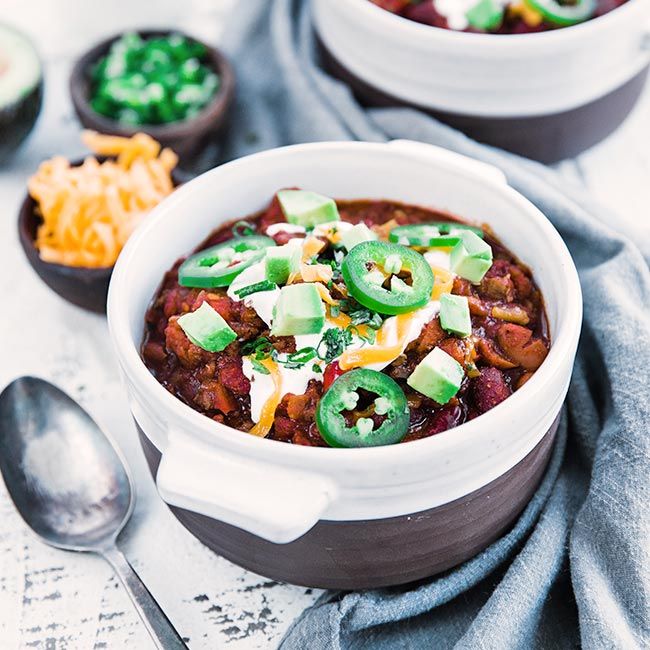 Homemade chili is an integral part of tailgating and is a must on every game day, and for those cool crisp nights and weekends. This Easy Homemade Chili Recipe is exactly that. This homemade chili recipe features finely chopped flank steak and is finished off with a bit off cinnamon and chocolate. Don't let that freak you out, I promise it is DELICIOUS!!
Of course, what would a good easy homemade chili recipe be without a little spice and all the fixin's added on top. We are a condiment family, so you better believe we are piling on the sour cream, cheese, avocado and green onions.
Now because I'm from Missouri I want to show off my homemade Chili Pride by naming this recipe "Ozark Mountain Chili." I can promise you that this homemade chili is delicious, hearty and packed with meat, vegetables and beans with a really unique flavor.
How to Make Homemade Chili:
Homemade chili is one of those things that just screams fall and football, and since we are in peak season you better believe I'm hookin it up! I've been making chili for years and I've learned a few tricks that will help you take your chili to the next level.
If you think about it, homemade chili is really just meat, onions, tomatoes, beans and spices, that's it. Instead of a more traditional ground meat chili recipe I went with flank steak which I finely minced. Flank steak has great flavor and awesome texture and I figured using it would add some heartiness to my homemade chili recipe.
In addition to the meat adding some heartiness to this homemade chili recipe, the tomatoes and beans also do that. I'm a firm believer that you should always use diced tomatoes in chili because it adds to the chunkiness. Hunt's diced tomatoes are picked at the peak of ripeness and canned within 8 hours to preserve freshness and flavor and are seriously perfectly cut to make sure my homemade chili recipe is super chunky!
When it comes to using beans in homemade chili I like to add in a few different kinds, so this BUSH'S Pinto and Kidney Chili Beans combo could not be any more perfect. The beans are firm and full-flavored with a unique spice blend that helps take chili taste to the next level!
How to Cook Chili:
I wanted to share a few tricks I've learned over the years to help take your homemade chili recipe to the next level so you can show off your Chili Pride to your friends and family.
Brown the meat very well before setting it aside and cooking your veggies
Make sure there are plenty of onions and peppers in the chili
Use different spicy peppers, I used poblano, jalapeño and chipotle peppers
Take the time to caramelize the onions and before adding in anything else. Those onions should be golden brown.
Use Hunt's vine-ripened tomatoes and BUSH'S hearty chili beans
Take the time to simmer it, remember chili tastes better the longer it cooks.
Finish off your chili with a tad bit of ground cinnamon and a little amount of dark chocolate to help take this thing to the next level.
If you ensure to follow all these steps I can guarantee you that you are going to have 1 dang good homemade chili recipe that is easy to make and beyond delicious. Now you can't call yours Ozark mountain Chili, but you can absolutely name yours whatever you'd like. For sure give this easy homemade chili recipe a try because there are only so many football games left in the season!
Oh yeah, when I make homemade chili I make enough to feed the masses so be sure to scale it to fit your needs!
Other Great Homemade Chili Recipes: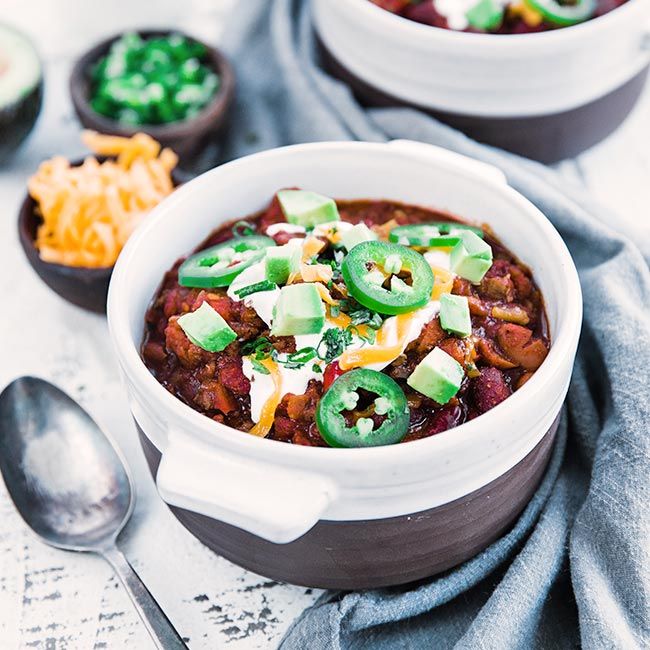 Easy Homemade Chili Recipe
Learn how to make this easy homemade chili recipe with flank steak that is perfect for this cool fall and winter months!
Cook Time
1
hour
30
minutes
Ingredients
1

tablespoon

of olive oil

2

pounds

of finely minced flank steak

5

finely minced cloves of garlic

2

peeled and small diced yellow onions

2

seeded and small diced red bell peppers

2

seed and small diced poblano peppers

1

seeded and small diced jalapeño pepper

1

finely minced chipotle pepper in adobo sauce

3 28-

ounce

cans of Hunt's Diced Tomatoes

6 15-

ounce

cans of BUSH'S Pinto and Kidney Chili Beans

1 8-

ounce

can of tomato paste

1/3

cup

of chili powder

1/4

cup

of cumin

3

tablespoons

of paprika

Lea & Perrins to taste

Tabasco to taste

½

teaspoon

of ground cinnamon

2

ounces

of dark semi-sweet chocolate

sea salt and fresh cracked pepper to taste
Instructions
In a large hot pot on high heat with olive oil add in the minced flank steak and cook until browned and cooked through.

Once browned, set aside and then add in the onions, peppers (minus the chipotles) and garlic and caramelize. Once brown add in the meat.

Next add in the chipotle peppers, tomatoes and beans and bring to a boil.

If the chili is too thick and a few cups of beef stock or water, or if it is too thin add in the tomato paste and stir.

Add in all seasonings, except for the cinnamon and chocolate and simmer on low heat for 1 hours.

Before serving, stir in the cinnamon and chocolate until combined.

Serve with sour cream, sliced jalapeños, diced avocado, shredded cheddar and sliced green onions.
This is a sponsored conversation written by me on behalf of Hunt's and BUSH'S. The opinions and text are all mine.
6