Learn these easy tricks to make the absolute best creamiest roasted garlic mashed potatoes that make for the perfect side dish to any main entrée.  You should definitely try serving these up with my Grilled T-Bone Steak Recipe with Lemon Butter or my Black and Blue Steak Recipe.
Believe it or not, there's an art even to making something as simple as mashed potatoes.  It's understanding these simple techniques so that you can make absolutely anything homemade, which only takes a few more minutes and steps while always rendering the best food out there.  If you are always on the hunt for great potato side dishes then you have to check out my potatoes au gratin recipe and sweet potato casserole.
WHAT IS THE BEST POTATO FOR MASHING
Here are a list of the best potatoes for mashing.
Golden Yukons – These potatoes are a cross between the North American white potato and a South American yellow potato.  They have the perfect combination between dry and moist and make for a fantastic mashed potato.
Russets – These large brown potatoes, which are often referred to as Idaho potatoes, are high in starch, on the drier side but still make a great mashed potato as well as French fries.
Red New Potatoes – These are smaller potatoes with red skin and have the highest sugar content of these 3 potatoes and are a great combination of dry and moist.  I love using these with the skin on in a mashed potatoes recipe.
CHEF NOTE: In my own humble opinion, the best potato out there for mashing are Yukons because of their balance of sugar to starch.
HOW TO MAKE GARLIC MASHED POTATOES
STEP 1: Cook together garlic cloves and olive oil over low heat until browned and tender, about 20 minutes.
CHEF NOTE: This process is called garlic confit
STEP 2: Strain the oil from the garlic cloves and set both aside.
STEP 3: Heat heavy cream and unsalted butter sticks together in a small sauce pot over low heat until melted.
CHEF NOTE: You just want to keep the cream and butter warm.
STEP 4: Peel and quarter Yukon gold potatoes and place in a large pot with water.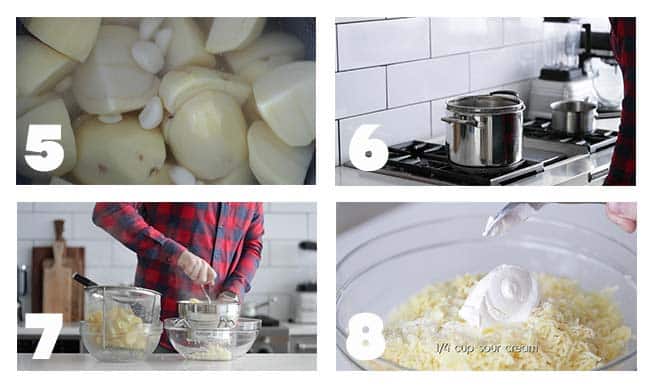 STEP 5: Add garlic cloves and salt to the pot with the potatoes and water.
STEP 6: Cook the potatoes over medium-high heat and at a low boil until they are soft and tender, about 10-12 minutes.
STEP 7: Strain and transfer the potatoes to a food mill and rice the potatoes along with the roasted garlic cloves until they are mashed through the food mill.
CHEF NOTE: You can absolutely use a stand mixer, hand mixer or a manual hand masher.
STEP 8: Add the hot cream and butter, some of the drained roasted garlic olive oil, sour cream, salt and pepper to the mashed potatoes and mix until incorporated.
CHEF NOTE: If you notice the mashed potatoes have sucked up all the cream and oil and are really thick, feel free to add more oil and sour cream to help thin out a little bit.
STEP 9: Serve with more melted unsalted butter and chopped chives for garnish.
MASHED POTATOES WITH SKIN
You can absolutely use potato skins in your recipe.  I advise you to wash and scrub the outside skins of them before cutting them and boiling them.
There are some significant nutrients such as iron and potassium found in potato skins and are certainly an added health benefit to leaving them on in a garlic mashed potatoes recipe.
HOW DO YOU MAKE THEM THICKER
The absolute biggest contributor in ensuring you can make mashed potatoes thicker is making sure they are cooked properly.  If you over cook them while boiling them, they will only be able to hold so much added ingredients such as butter, cream or sour cream.
With that being said if you really love thick garlic mashed potatoes you can add in any of the following until the desired amount of thickness is achieved:
Flour
Potato Flakes
Potato Starch
Corn Starch
Arrow Root
Tapioca
Cheese
CHEF TIP: Just cook them correctly and add anything you want to it and they will remain thick.
HEALTHY GARLIC MASHED POTATOES
A way to keep this recipe on the healthier side would be swap these ingredients.
Butter <-> Yogurt
Heavy Cream <-> Fat Free Milk
Garlic Olive Oil <-> Plant Based Oil or Butter
These are a really fantastic side dish to just about any main entrée whether it's for the family during the week, serving to some guests on the weekend or for a holiday spread!  No matter the occasion, you will love them!
REHEATING: To reheat the garlic mashed potatoes simply add your desired portion to a small sauce pot with a little bit of butter or milk and heat over low heat until hot.  In addition you can simply add them to the microwave and heat until hot.
STORING AND FREEZING: They can be stored in the refrigerator covered in plastic for up to 4 days.  They can also be frozen covered for up to 2 months, however they will lose quite a bit of moisture and flavor if frozen.
*If you love these garlic mashed potatoes then I suggest you serve them up alongside my Chicken Cacciatore Recipe, and be sure to drop me a comment below and a rating if you've had the chance to make this amazing recipe*  
Don't forget to watch by step by step video below.
Be sure to follow me on Facebook, Instagram and Pinterest for my latest updates.
Print Recipe
Creamy Roasted Garlic Mashed Potatoes Recipe
Learn the tricks to make the absolute best creamiest roasted garlic mashed potatoes that make for the perfect side dish to any main entrée.
Ingredients
1 ½

cups

olive oil

½

cup

trimmed garlic cloves + 10-12

1

cup

heavy whipping cream

2

sticks unsalted butter + 4 tablespoons melted

4

pounds

peeled and quartered Yukon potatoes

¼

cup

sour cream

sea salt and cracked pepper to taste

chopped fresh chives for garnish
Instructions
Add the olive oil and ½ cup of garlic cloves to a small pot and heat over low heat until brown and tender, about 20 minutes. Strain and keep both to the side.

Next, add the cream and sticks of butter to a separate small sauce pot and keep warm over low heat. It should be melted before using.

Add the potatoes to a large pot of salted water along with the 10-12 garlic cloves and cook over medium-high heat to a low boil for 10-12 minutes or until the easily fall off a fork when piercing.

Strain the potatoes and transfer along with the roasted garlic cloves to a food mill, stand mixer, hand mixer or hand masher and mash the potatoes until smooth.

Fold in the hot cream and butter, ½ cup to ¾ cup of roasted garlic olive oil, sour cream, salt and pepper using a rubber spatula to completely combine. See Note.

Serve the potatoes with extra melted butter and chopped chives for garnish.
Notes
CHEF NOTES:
In my own humble opinion, the best potato out there for mashing are Yukon potatoes because of their balance of sugar to starch, but you can absolutely use russet or red new potatoes in this recipe.
If you notice the mashed potatoes have sucked up all the cream and oil and are really thick, feel free to add more oil and sour cream to help thin out a little bit.
REHEATING YOUR GARLIC MASHED POTATOES: To reheat the garlic mashed potatoes simply add your desired portion to a small sauce pot with a little bit of butter or milk and heat over low heat until hot. In addition you can simply add them to the microwave and heat until hot.
STORING AND FREEZING CHICKEN STOCK: Garlic mashed potatoes can be stored in the refrigerator covered in plastic for up to 4 days. They can also be frozen covered for up to 2 months, however they will lose quite a bit of moisture and flavor if frozen
Nutrition
Calories:
238.65
kcal
|
Carbohydrates:
25.65
g
|
Protein:
5.7
g
|
Fat:
13.56
g
|
Saturated Fat:
6.75
g
|
Cholesterol:
36.03
mg
|
Sodium:
33.03
mg
|
Potassium:
802.56
mg
|
Fiber:
4.68
g
|
Sugar:
0.26
g
|
Vitamin A:
385.68
IU
|
Vitamin C:
22.95
mg
|
Calcium:
88.53
mg
|
Iron:
6.01
mg