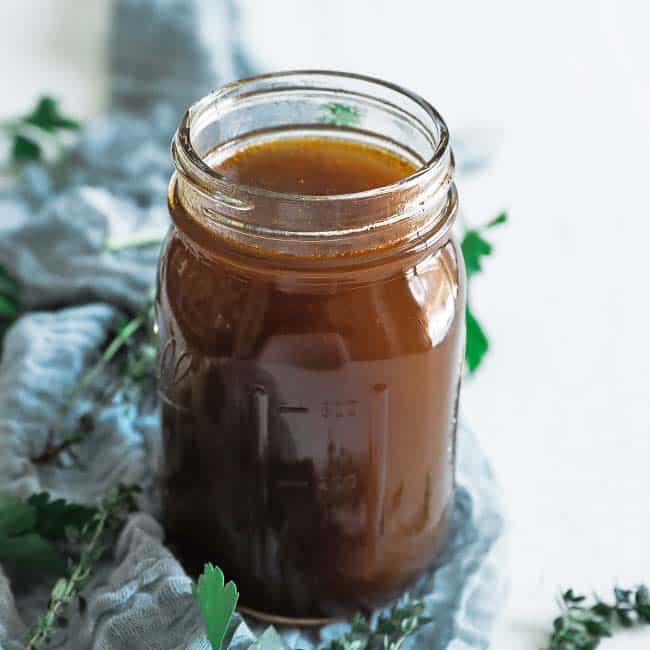 Print
Homemade Beef Stock Recipe
Make one of the most fundamental recipes in all of cookery with this rich and delicious homemade beef stock.
¼

cup

olive oil

8-10

pounds

of beef bones

4

roughly chopped medium-size yellow onions

8

roughly chopped celery stalks

8

roughly chopped medium size carrots

10

garlic cloves

2

cups

red wine

¼

cup

tomato paste

15

sprigs fresh thyme

20

black peppercorns

2

bay leaves

1

bunch Italian flat-leaf parsley
Preheat the oven to 425°.

Add the bones to a roasting pan and coat in olive oil. Roast in the oven at 425° for 1 hour or until browned.

Remove the bones and transfer them to a large stockpot and set aside. Drain off all but 3-4 tablespoons of rendered meat fat in the pan and place the roasting pan on a burner over low heat.

Add in the onions, celery, carrots, and garlic, and roast in the pan for 10-15 minutes or until lightly browned.

Deglaze with 1 cup of red wine and cook until it reduced by ¾.

Next, mix in the tomato paste and cook over low heat for 15 minutes until the tomato paste resembles a rust color.

Transfer the vegetables to the stockpot with the roasted bones.

Add the pan back on the burner and deglaze with the remaining 1 cup of wine and cook for a few minutes to remove any of the leftover bits of fond on the bottom of the pan. Pour it also into the stockpot.

Fill the stockpot up with cold water until it covers the bones by about 6 inches.

Simmer over low heat for 8-10 hours while continually skimming off any impurities on top.

Store.
Chef Notes:
Make-Ahead: You can make this recipe up to 3 days ahead of time but can also be used immediately.
How to Store: Place covered in the refrigerator for up to 5 days. Freeze covered for up to 6 months.  Thaw in the refrigerator for 1 day before reheating.
How to Reheat: Add the desired amount to a saucepot and heat over low heat until hot.
It can easily be made using all leftover ingredients. It's important if you often fabricate beef to use in your cooking to freeze the leftover pieces of meat or bones.
Any leftover bones at all should be frozen.
Any vegetable peelings, or if they are starting to go bad, please put them in the freezer to make this beef stock as economical and delicious as possible.
If you are using veal bones, cook for 6-8 hours.
Do not boil the stock, as it will only make it cloudy.
Calories:
30
kcal
|
Carbohydrates:
3
g
|
Protein:
1
g
|
Fat:
1
g
|
Saturated Fat:
1
g
|
Sodium:
23
mg
|
Potassium:
88
mg
|
Fiber:
1
g
|
Sugar:
1
g
|
Vitamin A:
2088
IU
|
Vitamin C:
3
mg
|
Calcium:
11
mg
|
Iron:
1
mg