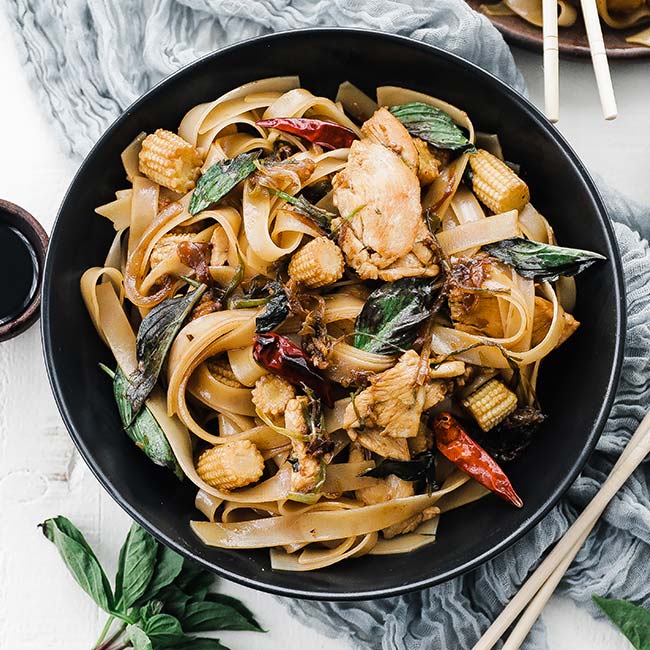 Print
Thai Drunken Noodles Recipe (Pad Kee Mao)
This drunken noodles recipe is loaded up with chicken and vegetables and is one of the most flavorful 30-minute meals ever.
For the Sauce:
1/3

cup

oyster sauce

2

tablespoons

dark soy sauce

2

tablespoons

soy sauce

1

teaspoon

fish sauce

3

tablespoons

water

1 ½

tablespoons

packed light brown sugar
For the Noodles:
16

ounces

wide rice noodles

3

tablespoons

cooking oil

two 7-9 ounce thinly sliced boneless

skinless chicken breasts

½

peeled thinly sliced yellow onion

8

dried mild Thai chiles

4

thinly sliced green onions

4

finely minced garlic cloves

1

teaspoon

finely minced fresh ginger

2 15-

ounce

cans drained baby corn

1 ½

cups

Thai basil
Sauce: Whisk together all of the ingredients in a bowl until combined and set aside.

Noodles: Add the noodles to a large pot of lightly simmering water and add in the noodles, turn the heat off and let stand for 8-10 minutes or until cooked. Drain and set aside.

In the meantime, add 2 tablespoons of oil to a wok over high heat, and as soon as it begins to smoke add in the chicken and spread it around the wok to brown. Cook for 2-3 minutes then stir-fry until lightly browned and cooked through and set aside.

In the same wok over high heat add in the remaining 1 tablespoon of oil and stir-fry the onions and chiles for 1 to 2 minutes or until lightly browned.

Next, add in the green onions, garlic, and ginger, and stir-fry for 1-2 minutes.

Add in the cooked chicken, baby corn, Thai basil, noodles, and sauce, and mix until combined. Serve.
Chef Notes:
Make-Ahead: This recipe is meant to be eaten right after it is done cooking.
How to Store: Cover and keep in the refrigerator for up to 4 days. This recipe will not freeze well.
How to Reheat: Add the desired amount of drunken noodles to a hot wok with a ¼ cup of chicken stock or water and cook for 2-3 minutes or until hot. Likewise, you can cook in the microwave until hot.
I used mild dried Thai peppers because I can't handle spice too well, but if you want to keep things zesty then fresh Thai peppers will do just great. If you want just a bit of heat, try using some julienne jalapeños.
If you can't get dark soy sauce, then feel free to use all regular or light soy sauce.
For the oil, I like to use sunflower, vegetable, canola, or sesame oil.
Feel free to use regular basil if Thai basil cannot be found.
Calories:
452
kcal
|
Carbohydrates:
88
g
|
Protein:
7
g
|
Fat:
9
g
|
Saturated Fat:
1
g
|
Sodium:
1243
mg
|
Potassium:
305
mg
|
Fiber:
4
g
|
Sugar:
8
g
|
Vitamin A:
655
IU
|
Vitamin C:
18
mg
|
Calcium:
45
mg
|
Iron:
2
mg