Try this amazingly delicious and easy to make side dish for a Vinegar Based Coleslaw recipe at your next barbecue or backyard get together!
If you are looking for a ridiculously easy recipe for slaw, then look not further than this  recipe.  It definitely seems like vinegar coleslaws has been all the craze in the BBQ world the last few years.
They're more flavorful and to me provide way more flavor when either eat by itself or when topped off on a big fat smoked brisket or pork sandwich.  One of my favorite coleslaws is done by a local restaurant right here in Chicago called Smoque.  Yes, I said a really good BBQ joint in Chicago and it wasn't an oxymoron.  Believe it or not my favorite BBQ place in the entire country is in Chicago, Green Street Smoked Meats, and I've had BBQ in just about every state in the south.
Often times it's not just the smoked meats that make BBQ so good, it's all of the side accompaniments.  I mean what would BBQ be without cornbread, peach cobbler, baked beans, coleslaw, you name it.  It would definitely not be the same.
SLICING THE VEGETABLES
There are few ingredients in this  recipe, with a great sweet and tangy vinegar based dressing that compliments perfectly.  It all starts with the vegetables of course.
A bulk of the vegetable comes from a head of green cabbage, and I for one like it shaved super thin, more times than not using a mandolin.
CHEF NOTE: Now just know that when you shave vegetables super thin and apply an acid to it, like vinegar, it's going to break down faster and become wilted or to put it simply, soggy.
If you do not have a mandolin it is completely fine to slice thing using a chef knife.
MAKING THE RECIPE AHEAD
If you make this vinegar coleslaw ahead of time and slice the vegetables super thin, it may not be perfect when you go to serve it several hours later or the next day.  If you plan on making it ahead of time I would recommend combining the vegetables and keeping the dressing separate right until you are ready to serve.
CHEF NOTE: Also don't plan on seasoning it to the end because if you salt the vegetable they will wilt super quick.  Yeah that was a lot of explanation on just the first ingredient. Let's get back to this vinegar coleslaw Recipe.
VEGETABLES TO USE FOR COLESLAW
For the rest of the vegetables including the green cabbage, I use red cabbage and carrots, which I also shave super thin on a mandolin.  It's always weird when a vegetable you've eaten your entire life is cut or sliced a bit different than normal that it seems to take on a completely different flavor and is so much more flavorful.
Wonder if it's just our minds playing tricks on our palettes??  This coleslaw with vinegar dressing is pretty versatile in the simple fact that you can get creative and add other ingredients to it as well.
In addition, the shaved green cabbage, red cabbage and carrots, I add sliced green onions, cilantro leaves, celery seed, sea salt and pepper and of course the dressing.
However, you could add:
sliced red, green, yellow or orange bell peppers
sliced spicy peppers, like jalapeños
thinly sliced kale or jicama.
Look, what I'm trying to tell you is that you are only limited by your own creativity, so have fun with this for crying out loud.
To save some time, If you don't want to slice the cabbages and carrots yourself for this recipe then I suggest buying the pre-made slaw mix, it will work just as well.  I will caution that sometimes those bagged up veggies can have weird things on them to help preserve them and keep them crisp, so I always believe in buying fresh and doing a bit of the labor yourself, I promise it's not that bad.
With that being said, I did use honey in the recipe, but it can certainly be substituted with 1 tablespoon of sugar, totally up to you.  Heck if you are on a total natural ingredient kick you could even use agave nectar.
VINEGAR COLESLAW RECIPE DRESSING
Making the dressing for a vinegar coleslaw is actually super easy.  A traditional vinaigrette is 3 parts oil to 1 part vinegar.  Well for me to maximize flavor we have to bring down that oil count to like 2 or even equal at 1 to the vinegar.
This will help make the vinegar coleslaw taste so much better.  Also, remember that oil hates vinegar so add a little mustard in there to help bring them together.
Simply add the vinegar, mustard, sugar to a bowl and whisk while slowly drizzling in the olive oil until emulsified.  Finish with celery seed, salt and pepper.
Lastly, and of course, I recommend putting this slaw on top of a Smoked Pulled Pork Sandwich or a Smoked Chicken BBQ sandwich, it's absolutely delicious!
If you are as infatuated with BBQ and all things coleslaw like I am then you for sure want to try a few other killer coleslaw recipes that I've created at: Blue Cheese Coleslaw, Creamy Coleslaw, or a Vegetable Dill Coleslaw.
STORING AND SERVING: It is best to store this coleslaw recipe undressed and unseasoned covered in the refrigerator until ready to serve.  It can stay in the refrigerator undressed and un seasoned for up to 3 days.  When ready to serve simply pour the vinaigrette over top, season with salt and pepper, toss and serve.
*If you love this coleslaw recipe then be sure to serve it up alongside my Smoked St. Louis Style Ribs recipe is a must try, and be sure to drop me a comment below and a rating if you've had the chance to make this amazing recipe* 
Remember to check out the step by step video below!
Be sure to follow me on Facebook, Instagram and Pinterest for my latest updates.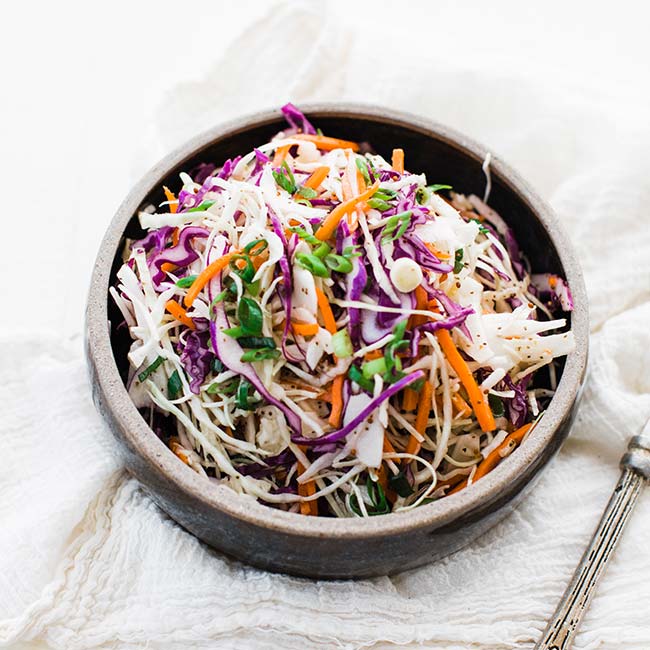 Print Recipe
Vinegar Based Coleslaw Recipe
Try this amazingly delicious and easy to make side dish for a Vinegar Based Coleslaw recipe at your next barbecue or backyard get together!
Ingredients
1/2

thinly sliced head of green cabbage

1

cup

of thinly sliced red cabbage

2

whole shredded carrots

3

thinly sliced green onions

1/4

cup

of apple cider vinegar

1

tablespoon

of grainy mustard

1

tablespoon

of honey or 1 teaspoon of sugar

1/4

cup

of olive oil

1

teaspoon

of celery seed

Kosher salt and fresh cracked pepper to taste
Instructions
In a small bowl whisk together vinegar, mustard, honey and olive oil and set aside. In a separate bowl mix together cabbages, carrots, green onions and celery seed.

Next, pour a small amount of the dressing on the cabbage mixture and mix together until combined and until desired amount of dressing is achieved.

Season with salt and pepper, and chill before serving.
Nutrition
Calories:
63
kcal
|
Carbohydrates:
5
g
|
Protein:
1
g
|
Fat:
5
g
|
Saturated Fat:
1
g
|
Sodium:
31
mg
|
Potassium:
127
mg
|
Fiber:
2
g
|
Sugar:
3
g
|
Vitamin A:
1850
IU
|
Vitamin C:
19.2
mg
|
Calcium:
27
mg
|
Iron:
0.4
mg