Get 5 Secrets to Make Homemade Taste Food Better + New Recipes Weekly!
Published January 4, 2018. This post may contain affiliate links. Please read my disclosure policy.
Bread should be light and fluffy on the inside with a beautiful hard crust on the outside. Learn How to Make a Homemade Artisan Country Loaf Bread Recipe!
Thanks again guys for stopping into BillyParisi.com to check out all of my recipes and videos, and on tap for today is this How to Make a Homemade Artisan Country Loaf Bread Recipe. It is to this day the best loaf of bread I have ever made. As I get more comfortable with baking homemade bread, each recipe just seems to get better and better. While the measurements are incredibly important, I'll talk more on this later, technique and time are just as important if not more important. Regardless, I've been LOVING baking homemade bread just like this artisan country loaf recipe and I can't see myself slowing down any time soon. Once you get your first really good loaf of homemade bread then it just pushes you to keep exploring and trying new things. Can you tell I'm excited about baking homemade bread yet lol?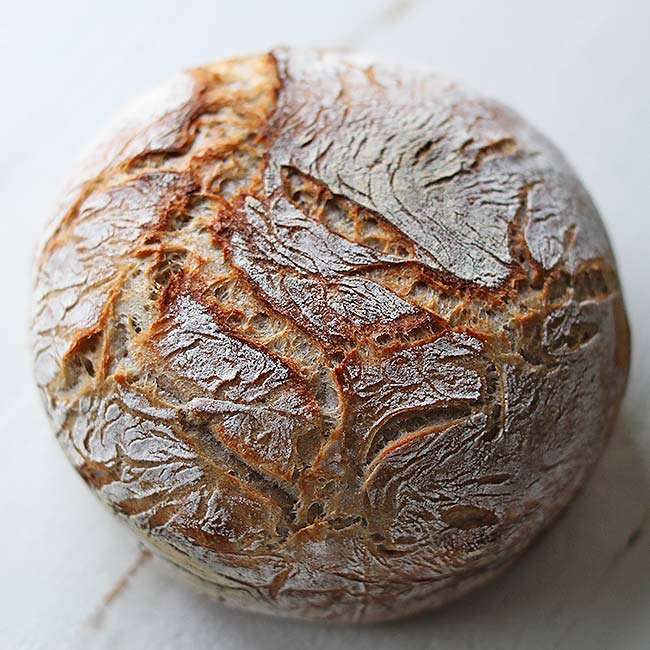 I made homemade bread a little bit throughout my food years since culinary school and to be honest I was a hack. In fact, I feel like I was a food hack with a lot of things but now I've got some more patience and am generally more interested in the creativity and creation of food than I've ever been before. I had a solid culinary education but to be honest my "on-the-job training" wasn't all that awesome so most of my creativity had to come from myself. It's not that I didn't work with amazing chefs, I did, it's just that they were much better chefs from a management and classical standpoint and didn't put as much emphasis on pushing the envelope in the creativity department. I only tell you this because we never even made homemade bread when I was working at all those restaurants back in the day, we got it brought in. It's simple things like making homemade bread, that can make all the difference in the world.
I've been doing some reading lately and I have to say that the best book for homemade bread making techniques is Flour, Water, Salt, Yeast. It's incredibly informative about how to go about each step in the bread making process and honestly, it's foolproof. It's pretty much exactly what you would learn in a baking class in culinary school, except for when to add the yeast into the flour, salt, and water. Regardless it's a fantastic book for making bread if you are interested in getting into this fun cooking hobby.
There are so many countries out there that have people who still make bread every single day. To me, baking homemade bread is a dying art form and while it does take time, there is nothing more satisfying than making it especially from something so simple. Bread, when done right, is loaded with all of the minerals and vitamins you need to sustain life. While I cheated a bit with this artisan country loaf bread recipe, the most traditional way would have been using a starter instead of yeast. However, most people who are just everyday cooks aren't going to take the time and money it takes to feed a starter once a day so yeast is much more practical.
How to Make Homemade Artisan Bread
To make this homemade bread recipe you are looking at about 5 hours. I think I said 3 hours and 45 minutes in the video but that's really more dedicated to the resting and proofing time and not the actual folding and forming time. If you do this recipe you need to start in the morning so maybe the weekend is best. You are also going to get your hands dirty, so don't even worry about breaking out the gigantic wooden spoon or spatula. It's important to use your hands so you can feel the dough come together. You can't do that with a spatula or spoon, you need to be touching it at all times so make sure there are no lumps.
Lastly, I want to talk about measuring for bread. It is super important so if you are serious about this then I recommend investing in a metric scale. Measuring in grams is as precise as it gets and you just can't get that with ounces or measuring spoons or cups, so pick up a metric scale. Homemade bread baking is a science and if you aren't right on then you aren't going to get the final product you need. Guys, I hope you enjoyed the video as well as inspiring you to get out there and bake some fresh homemade bread, there's nothing like it!
Video
How to Make a Homemade Artisan Country Loaf Bread Recipe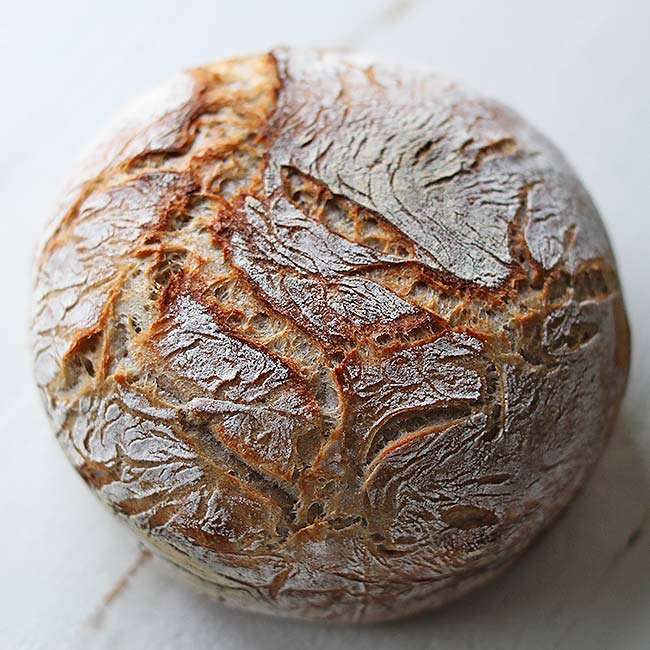 Bread should be light and fluffy on the inside with a beautiful hard crust on the outside. Learn How to Make a Homemade Artisan Country Loaf Bread Recipe!
Ingredients
560

grams

of 00 bread flour

190

grams

of whole wheat flour

600

grams

of water at 98° to 100°

17

grams

of Kosher salt

3

grams

of active yeast
Instructions
In a large bowl combine with your hands the flours and water until completely mixed together. Let rest for 10 minutes.

Next, sprinkle the salt and yeast overtop and mix it into the dough by pinching, stretching and folding the dough over for 4 to 5 minutes.

Cover and rest the dough in a warm dark place for 15 to 20 minutes before folding the dough over for 2 minutes.

Cover and rest for 45 to 60 minutes and then fold the dough over for 2 minutes. The dough may need a few more folds if the gluten is not strengthening.

Cover and rest for 2 hours or until it has tripled in size.

Dust a clean surface with flour and place the dough onto it. Sprinkle the top with flour and fold the dough over in thirds 3 to 4 times and then begin to mold the dough into a ball by cupping around the dough into the bottom.

Place the dough into a floured Benetton and cover and rest for 60 minutes.

In the meantime, place a small Dutch oven pot into the oven on 475° for at least 30 minutes.

Flip the dough right into the hot Dutch oven pot, cover it and return it to the oven and bake for 30 minutes

Let cool for 20 to 30 minutes before slicing and serving.
Nutrition
Calories:
669
kcal
Carbohydrates:
136
g
Protein:
23
g
Fat:
4
g
Saturated Fat:
1
g
Sodium:
1659
mg
Potassium:
312
mg
Fiber:
9
g
Sugar:
1
g
Calcium:
42
mg
Iron:
3
mg